漢譯不如歸 上篇 (一)の一(1)英訳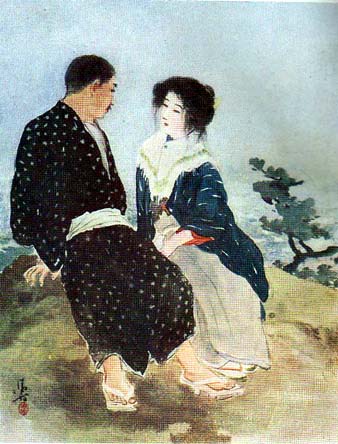 漢譯不如歸挿畫 鏑木清方 畫
[英訳]
Nami-ko
A REALISTIC NOVEL
By
KENJIRO TOKUTOMI

Translated from the Japanese
By
SAKAE SHIOYA
and
E. F. EDGETT


CHAPTER I
The Honeymoon

 It was evening at Ikao, the famous town of hot springs in Joshu. A lady stood gazing at the beautiful scene revealed through an open screen in the third story of the Chigira Hotel. Her age was eighteen or thereabouts. Her hair was dressed in a taseteful mage*, and she wore a gray crape gown, relieved by green bows at her breast.

*Mage, or, in full, marumage; the head dress of a married woman.

 She was of a fair and clear complexion, and though her eyebrows were a little too close together and her cheeks were somewhat thin, she seemed to be as gentle in nature as she was slender and graceful in figure. She was not like the plum-blossom, daring to bloom in the bleak north wind, nor like the cherry-flower, whose petals are blown hither and thither like butterflies in the spring morn. She was, indeed, like the shy daisy dimly discovering itself in the dusk of a summer eve.

2009年9月6日公開。